Just finished watching Peach Girl or Pichi Garu!!!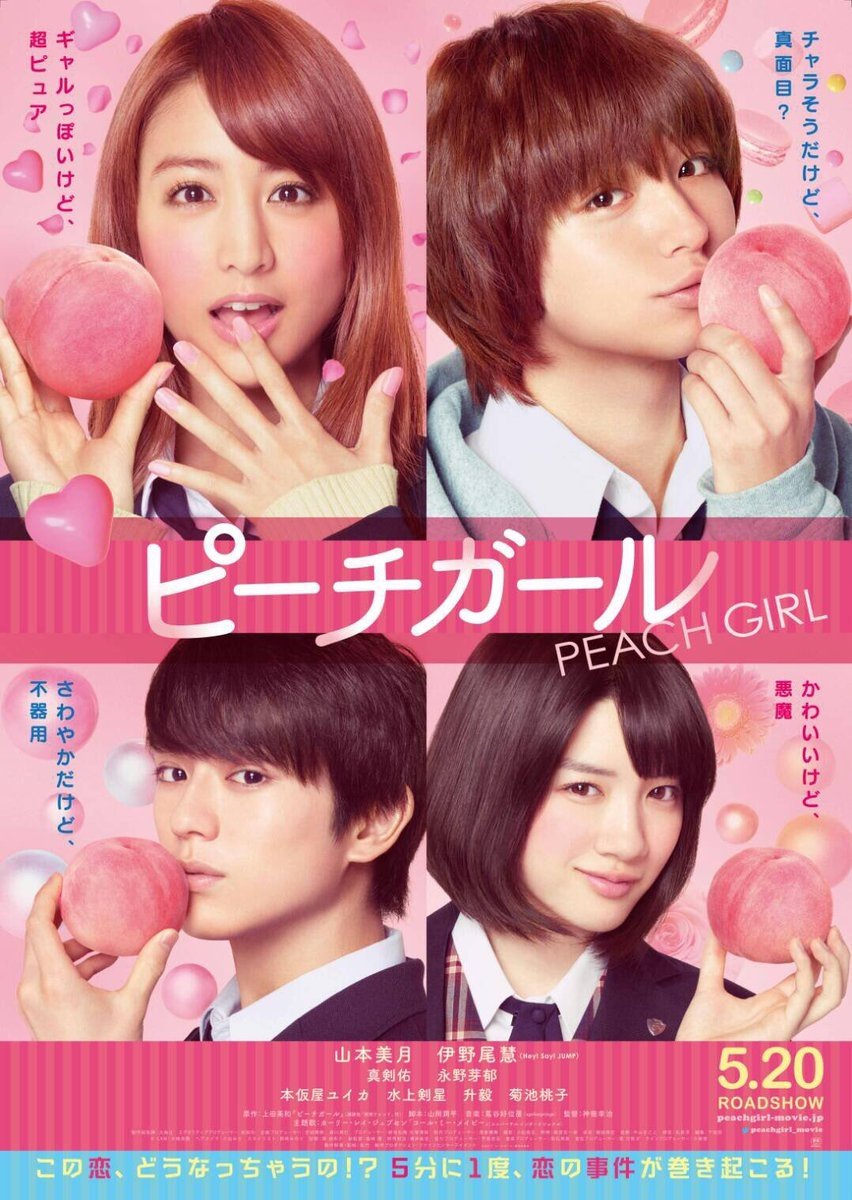 FYI, this live action is based on manga, Pichi Garu that was released from October, 1997- January 2004. The manga was written by Miwa Ueda published in Bessatsu Friend (source from
Asianwiki
).
Actually, I didn't really expect the movie until then I watched fanmade movie in YouTube. Frankly, I didn't know anything about the story of the movie. I just read the synopsis at glance, and that's all. But after I watched this, I thought, there was a girl who fell in love with a boy, but then another girl approached the girl, then they fell in love. Huh?! It turned out to be Yuri manga? Whaaattt!!!!
Check out the fanmade. Watch out for spoiler 😁
Well, I was wrong! The second male lead has hair like a girl that I thought he was a girl. But then after I browsed here and there, Kairi Okayasu was a cool boy in the school. Kei Inoo played the character quite well. Compared to the first male lead, Kazuya Toujigamori who appeared cool at the first scene, but then he turned to be someone nasty. Well, the second lead female made him to, by the way. But the feeling of supporting him to be with the first female lead, Momo Adachi was no longer there.
The story line was typical Japanese dorama, to be honest. Two female and male lead fell in love, then the appeared another guy and girl tried to mingle with their relationship. But in this story, the second female lead, Sae Kashiwagi was really really annoying. It's typical antagonist in some cinema electronics in Indonesia 😝😝. On the other hand, the second male lead was really loving and gentle. The first time I saw him, I thought he was a girl. LOL. Pardon me for Kei Inoo's fans. But look at the picture below.
Don't you think that Kairi is like a girl? 😁
Well, let me talk a little bit about the characters.
Mizuki Yamamoto
played as Momo Adachi. I didn't read the manga, so I can't compare her character in live action and the manga. Overall, it's average. The problem is I felt annoyed when she cried a lot and the camera stayed for quite sometime. And she didn't cried once, but couple of times. Typical Japanese romance movies won't do that much, in my opinion. Fro the actress who played the role, Mizuki Yamamoto, I knew her for the first time playing one character in Keiji Yugami. Her role there was very much different from this live action. I think she is a genius there.
Mackenyu
played Kazuya Toujigamori. In my personal view, he once again didn't really showed his best acting here. The way he got surprised or sad didn't show any difference. LOL. Honestly, I watched this live action for the sake of watching him, but then I went to Kairi's team 😁. I prefer to see him in Yume wo Ataer as a jerk.
Kei Inoo
played Kairi Okayasu. As I said before, this is first time I watched him. Even though at first
I thought he was a girl with that hair style, I end up loving his smile 😘. Kairi dreamed to be a professional patisserie, but his father opposed him. The scene when his father finally confessed his feeling should be a touching scene. But for me, it's a bit weird. The scene took place in a restaurant where he worked as a patisserie. How could he make a scene there? I know it's a drama. But, please, is there any other place that he could cry hard with Momo comforted him?
Nagano Mei
played as Sae Kashiwagi. This is the first time for me to see her antagonist's side. I don't say that she was good in that role, but I think her innocence face still reminded me of her playing as Yosano in Daytime Shooting Star. She tried her best, though.
Overall, this live action is so so. What I mean here is I was not really happy after I finished watching it. It's different from Daytime Shooting Star. Some funny and romantic yet awkward scenes were worth re-watching. It's kind of once-watching-it-delete-later-movie.